What is eero Built-In?
eero Built-In allows you to use select Echo devices as mesh nodes and access points on your eero wifi network. This will enable your connected devices (laptop, cellphone, etc) to connect to the internet through your Echo devices, extending the wifi coverage in your home.
How does it work?
Compatible eero Devices
Compatible Amazon Echo Devices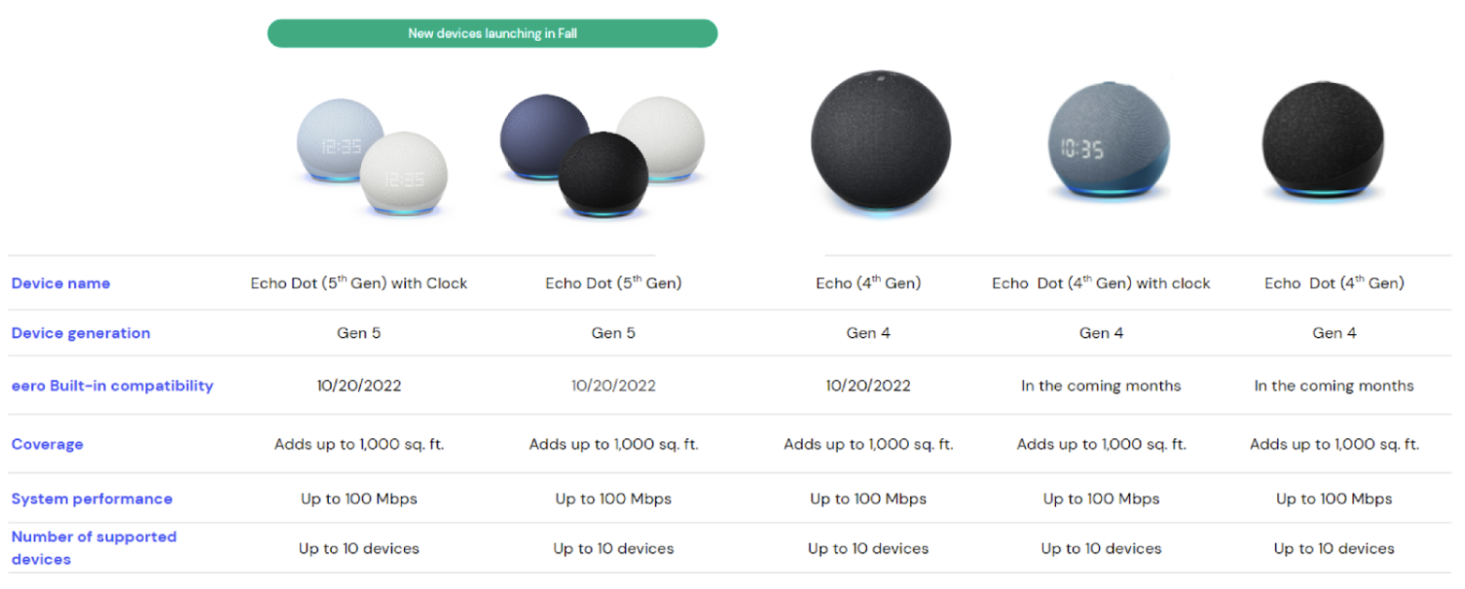 *For full performance information, see eero.com/eero-built-in.
How do I set up eero Built-in?
The setup process for eero Built-In requires that you have already installed your eero network (with a compatible eero device as your router), have created and logged into your eero user account through the eero app, and a compatible Echo device has been set up using the Alexa app.
In order to use your compatible Echo device as a mesh wifi extender, you must have your Amazon and eero accounts linked. Learn more about account linking here.
You can link your accounts before eero Built-in is launched, but note that if you account link before October 20, 2022, you will still need to enable eero Built-in using the process below. Customers who link their accounts on or after October 20, 2022 will see eero Built-in enabled on their networks by default.
If you linked your accounts before October 20, 2022, once your eero network and Echo device have been set up, simply follow these steps:
Open the eero App

Select Discover at the bottom of the app

Select 'Amazon Connected Home'

Select 'eero Built-in'

Toggle on 'eero Built-In'
Enabling this feature will not reboot your network.
Once eero Built-in is enabled, any Echo devices that are eero Built-in ready will be listed in the "eero Built-In" section of the App. Please also note that when eero Built-in is enabled, compatible Echo devices that are currently on your network, as well as those that join your network later, will automatically extend your wifi. Certain eero, Echo Amazon, and/or Alexa features may also be incompatible with eero Built-in (see these below).
You can enable or disable individual Echo devices in the "eero Built-in" section of the App without having to disable the feature at the network level.
Troubleshooting
Troubleshooting eero Built-In setup issues
A couple of common reasons for eero Built-in setup failure are listed below. When one of these errors occurs, you will see an error message appear in the eero app.
The Echo device is not up to date / is not on an eero Built-in compatible firmware version
To check for updates, you can use the ask Alexa: "Alexa, check for updates." Alternatively, you can check your firmware version by viewing the firmware version listed for the Echo device inside of the Alexa app.



You may not have linked your eero and Amazon accounts yet
This feature requires linking your eero and Amazon accounts. This can be solved by connecting the two accounts. Please see the following help guide for more information on connecting your accounts:

Using your Amazon Login with eero



Your Alexa account and eero account are not the same
If the Echo device is set up on a different Amazon account than what is linked to your eero account, it cannot act as a device access point.

This can only be solved by using the same Amazon account for both Alexa and eero account linking purposes. Go to the Alexa app > Device Settings to re-register the device with the same Amazon account as your eero network, or press and hold the action button on the Echo device for 25 seconds. Alternatively, you can unlink and relink your eero network to the same Amazon account you use with this Echo device.



The Echo device is not able to use eero Built-in and the eero app is displaying an error
Your Echo device is either too close to, or too far away from, your closest eero device. Please follow the placement instructions in the eero app and try again.
General eero Built-In Troubleshooting
Connected devices don't appear to be choosing to connect to the eero Built-in enabled Echo device

It's possible that the coverage in that area is already sufficiently covered by eero units and you may benefit from moving your Echo device a bit further away from the closest eero device. An eero device is an excellent mesh wifi provider, who's only job is to maintain mesh wifi. This means that even if your proximity to an Echo device is a fraction of your distance to an eero, your connected devices may not find a reason to use the Echo device, as they optimize for the best connection.

It's important to remember that connected devices make their own roaming decisions. Some devices, such as some Android phones, roam more "actively" than others. They look to optimize their own connection by looking at factors such as received signal strength (RSSI) and wifi protocol. That means a specific device may not view the Echo as "ideal" to connect to, so it may connect to another node instead.

Connected device upload/download speed is not as desired

eero Built-in enabled Echo devices can support up to 100 Mbps in ideal RF environments (see more information on eero.com/eero-built-in). If you're looking for supported speeds in excess of 100 Mbps, you can find a list of available eero devices here that you can add to your network.
The Echo device's MAC address doesn't appear in a wifi-scan of access points in my network

Confirm that the eero app shows eero Built-in is active on your network and that the Echo device you're trying to enable does not have an 'error' (caution icon) visible in the eero app under eero Built-in section.

Please

contact eero Support

so that we can confirm that your Echo device is using eero Built-in properly.
What features are incompatible with eero Built-in?
Below are some of the primary features that are not compatible with eero Built-in. This list may not be complete, and it may change over time as we work to improve the performance of this feature. :
Echo Device Low Power Mode (

learn more about Low Power Mode here

)

When eero Built-in is enabled, Low Power Mode on Echo devices is disabled so they can remain active to serve as a mesh wifi extenders expanding your home's wifi coverage.

Alexa Home Theater

When Alexa Home Theater is enabled, the Echo device associates as a client to the FireTV. This is incompatible with the eero Built-in architecture, where the Echo Device is meshed to the eeros in the network — the Echo Device cannot be in mesh mode and client mode at the same time.

eero Built-In is not supported on eero Guest Networks. The guest network will not be extended.

eero Built-In is not supported when the eero network is in bridge mode.

You may experience limited HomeKit Router functionality across your eero network when eero Built-in is enabled WPA3

When WPA3 is enabled (you can do this through Discover > eero Labs in the eero app), your eero devices will support WPA3 transition mode for connections between the eero and the connected device. Your Echo devices will use WPA3 transition mode for connections between the eero and the Echo device, but will use WPA2 for connections between the Echo device (as an access point) and the devices connected to the Echo device.

eero Home Mesh WiFi System (1st Generation) does not support eero Built-in

IPv6

Dynamic Frequency Selection (DFS) channels

Echo devices cannot be used to extend your wifi when eero Built-in is enabled if your eero network is currently utilizing a DFS channel (although our Echo devices can continue to connect to your network and these DFS channels as connected client devices).

eero Alexa skill

When using the eero Alexa skill, Alexa may not always identify that your eero Built-In enabled Echo devices is currently acting as an access point rather than a connected client device.

Learn more about the eero Alexa skill here

.