Our team at eero is always innovating and developing fresh ideas using the latest technologies. The new eero Max 7 is one of the first Wi-Fi 7 routers available on the market. With the addition of two auto-sensing 10 Gigabit Ethernet ports and two auto-sensing 2.5 gigabit Ethernet ports, this eero device is compatible with internet plans up to 10 Gbps.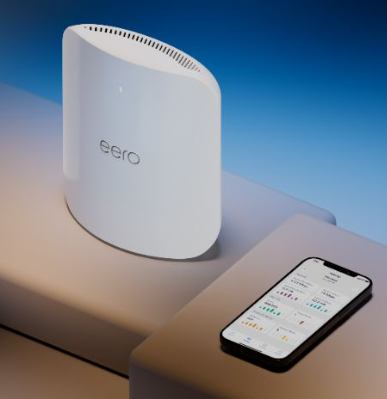 .
What is eero Max 7?
eero Max 7 is our first tri-band Wi-Fi 7 eero. It utilizes the 2.4, 5, and the 6 GHz bands, and has two 10 Gigabit Ethernet ports plus two 2.5 Gigabit Ethernet ports. Powered by Wi-Fi 7 technology and TrueMesh, eero Max 7 optimizes your wifi for wireless speeds up to 4.3 Gbps and wired speeds up to 9.4 Gbps.
Features:
Wi-Fi 7 technology (802.11be)

2x4x4 antenna array

Allows for more devices to communicate concurrently with MU-MIMO

Helps powerful client devices with 3x3 and 4x4 antennas perform better

Works With Alexa

Zigbee-compatible smart home hub

Thread compatible

Matter compatible

Supports Smart Home Hub (SHH) and is Matter compliant

Can connect 200+ devices
How much coverage do I get?
A single eero Max 7 will provide up to 2,500 sq. ft. (232m2) of coverage. Range may be reduced depending on placement and building materials used within the structure. For tips on placement, please see this article.
What's in the box?
1 eero Max 7
1 power supply unit
1 Ethernet cable
The power supply unit and Ethernet cable are located under the eero—simply lift the cardboard insert to reveal the items.
How do I set it up?
Place your eero Max 7 in a central location away from anything that would cause interference, such as mirrors and glass tables. For placement tips, please click here.
To set up your eero Max 7, scan the QR code on the side of the box. For more detailed instructions, please click here.
Can I use an eero Max 7 with my existing eeros?
Yes—however, combining eero Max 7 devices with older-generation eero devices on the same network may result in reduced performance across your network. For optimal performance, eero recommends using the same-generation eero devices across your network.