In our own internal tests, we've observed that Sonos systems can be affected by any changes to your home network. Updating settings for multiple Sonos devices or replacing your existing wireless router may require you to take a few additional steps to ensure Sonos works properly.
If you've experienced Sonos issues like skips in your music or speakers no longer appearing in your Sonos app since installing eero, then you may need to re-associate your speakers with your new wireless network.
To resolve these issues, please follow the instructions linked below from Sonos:
How to Connect Sonos to Your New Router
If these steps don't help, please see some of the tips that we have found helpful below.

*Please note if you are not having any problems with Sonos on your eero network and you have one of the configurations or settings listed below please keep your system in its current state. These suggestions are only for users having problems.
Helpful Sonos Support links:
Connect using Wi-Fi :
Connecting your Sonos devices using Wi-Fi is the recommended method for best performance on eero networks. If your Sonos are currently connected using SonosNet and experiencing connectivity issues, we recommend disconnecting the Sonos devices from SonosNet and setting them up using Wi-Fi .

To connect your existing Sonos speaker to Wi-Fi follow these steps:
Make sure there is no ethernet cable connected to your speaker.

Open the Sonos S2 app for iOS or Android. This process

cannot

be completed using the Sonos app for Mac or PC.

When you see the message "Unable to connect to Sonos," tap "Let's fix it" to get started. You can also go to the Settings tab and tap one of the prompts that appear: "Unable to find your Sonos system" or "Update your network settings."

Follow the instructions to connect your Speaker to the Wi-Fi network.
Correct Wi-Fi Configuration:


Key:

Connect using ethernet:
For advanced Sonos systems with many (5 or more) Sonos speakers, connecting Sonos devices to your network with Ethernet may provide a better experience. When doing so we recommend that Sonos devices are connected via Ethernet or Wi-Fi, but not Sonosnet. Follow these suggestions for the best eero network and Sonos experience:
Any Sonos that is connected via Ethernet to an eero network should have its WiFi capabilities disabled.

All Sonos devices that are connected via Ethernet should also have Wi-Fi disabled

Open the Sonos app for iOS or Android.
From the Settings tab, tap System.
Under Products, tap the name of the room you'd like to modify.
On the following screen, tap your product's model name under the Products heading.
Tap Disable Wi-Fi

If unable to hardwire other Sonos devices they should be connected via Wi-Fi to your eero network, not via SonosNet.
Correct Wired Setup: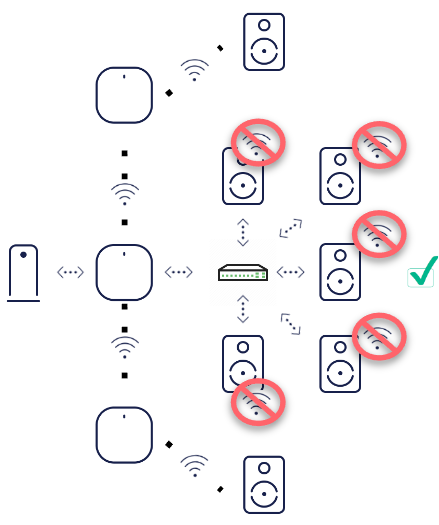 Key:

Still having Trouble connecting your Sonos? Please contact us or you can contact Sonos Support for assistance.