What's a static IP?
An IP address is a number assigned to a particular device so other computers or devices can locate it. Similar to your home address, which enables your friends, family, and the mailman find you in the real world, your IP address enables your devices to find—and be found by— other devices on the Internet.
Most of the time external IP addresses are automatically assigned by Internet service providers (ISPs), so customers don't have to worry about them. Some ISPs, however, require unique static IP settings to set up a network. If you're unsure whether or not your network requires a static IP,  please check with your ISP for details.
Setting up eeros with static IP
For new eero installations, follow the "New/first-time setup" instructions directly below. Already configured eero networks behind another router or without using their static IP can use the instructions labeled "Existing eero network/previously setup."
New/first-time setup
Make sure to have the latest iOS or Android app from the respective app store
Plug your gateway eero into an upstream router already connected to your modem
Open the eero application and go through the network setup process 
At the end of setup, follow the blue prompt to update your eero network to the latest version of eeroOS
Once the software update is complete, go into the eero application and delete your network by following these steps:
Tap the menu button in the top left corner

Go to Network Settings
Tap on the option labeled Delete your network
In the red box below, tap Delete your network and confirm
Disconnect your gateway eero and upstream router from your modem

Open the eero application and follow the steps for creating a new network
The app will initially try to connect to the Internet using DHCP. After a short timeout, you should see the following screen: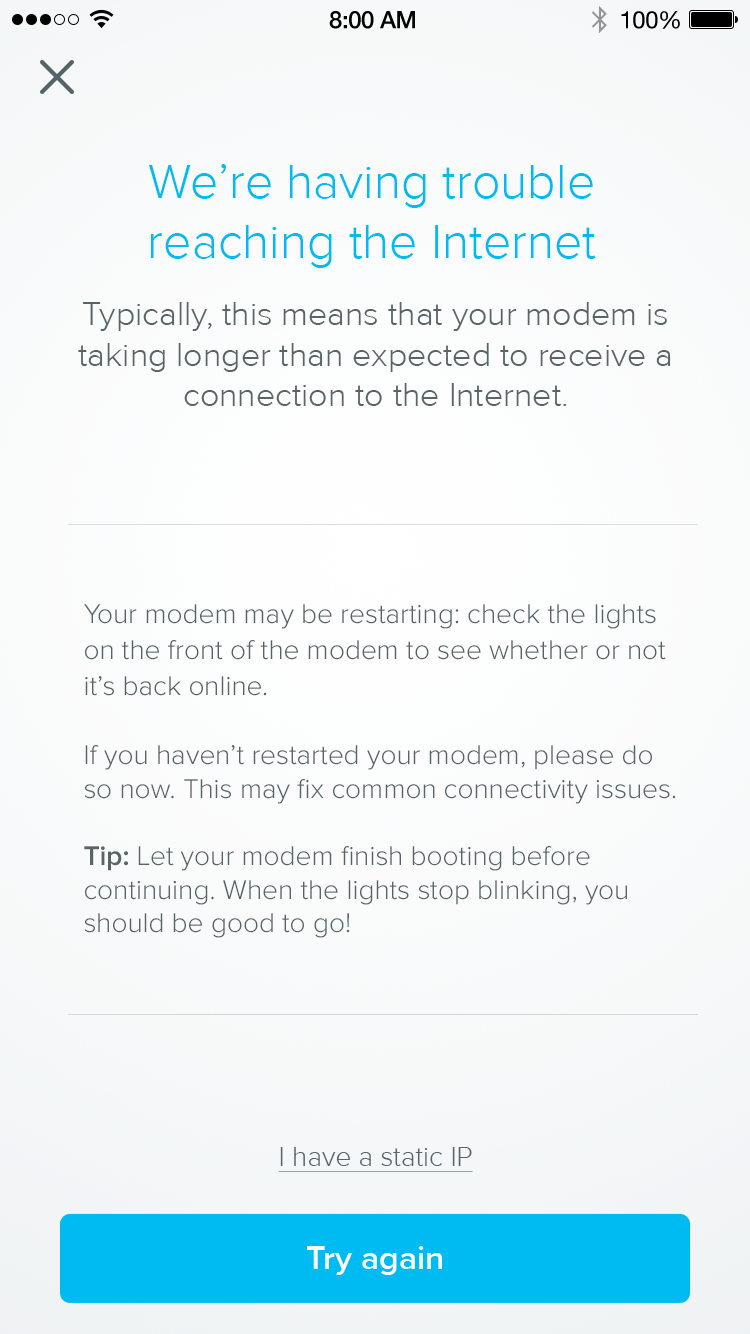 Tap "I have a static IP" at the bottom just above the Try Again button
If your eero device software supports static IP, you will have the option to enter the static IP on the next screen. 
Enter your static IP information including IP, subnet, and router IP address (Note: if you need to also set custom DNS this can be completed after initial network setup via Network Settings>Advanced Settings>DNS)
Tap continue
The app will send the static IP information to the eero and test connectivity to the Internet
If the IP information is incorrect, or the eero cannot gain connectivity within the given timeout, you will be returned to the check connection screen. Please confirm that the settings are correct and tap Try Again if so
If you continue to experience trouble, please contact eero support
Existing eero network/previously setup
If you already have an existing network or have previously set up your eeros and would like to change your setup to support static IP, we recommend deleting or tearing down your current network because this provides the most simple means to setting up your eero system from scratch with static IP.
For instructions on how to delete your network, click here.
Important note: Deleting your eero network will clear any previously set advanced network settings. For example, you will lose any IP reservations, port forwarding and various advanced features like Family Profiles that were previously setup. However, you can always re-add these settings once you have migrated your network to static IP.