Both eero 6 and eero Pro 6 feature a built-in Zigbee smart home hub, making it easy to connect compatible devices with Alexa. So you can control certain lights, locks, plugs, and more—without the need to buy separate smart home hubs for your connected devices. Your eero works to connect your Zigbee devices, so you can save cost (and space) with a single hub.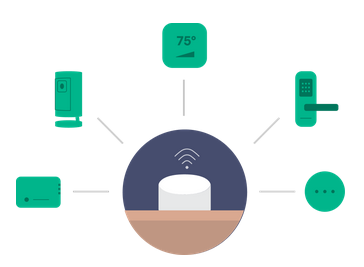 What is a 'hub': A smart home hub is a single device that connects all compatible devices allowing them to communicate with one another and be controlled through a single interface. Your eero 6 systems combine an eero node and a smart home hub into one single device.
How do I use eero's built-in Zigbee smart home hub?
In order to activate your built-in hub, you will need to link your eero and Amazon accounts inside of the eero app. Once linked, your smart home hub is enabled and you can start connecting compatible Zigbee devices with Alexa using the Alexa app or any Echo product using your eeros. You can control those Alexa-enabled devices with your voice and set up scenes and schedules to automate your home.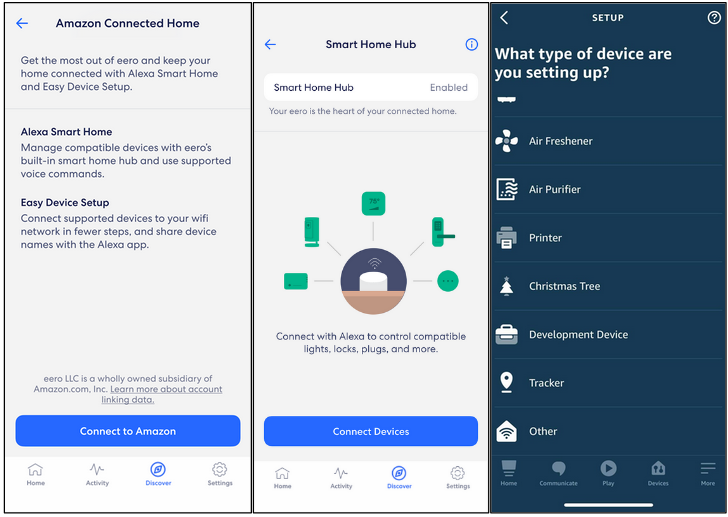 How do I connect Philips Hue Bulbs to eero 6 and eero Pro 6? The Alexa app says to add a hub.
This is a known issue and easily worked around in the Alexa app. We're working on improvements and will update this article when available. To add Philips Hue products to your eero 6/eero Pro 6, tap the "+" then "Add Device" in the Alexa app then scroll down to "Other." You can also say "Alexa, discover devices" to discover Philips Hue products.
If you need to reset a Philips Hue product before adding it, tap "+" then "Add Device". Tap "?" in the top right. Tap the link under "How do I put my Zigbee device into pairing mode?". Scroll down to Philips Hue and tap "Reset Philips Hue Light." This will require the six digit code on the product.
What Zigbee products can I connect to eero 6 and eero Pro 6?
eero 6 and eero Pro 6 support the same Zigbee accessories as Amazon Echo, Echo Plus, Echo Show, and Echo Studio with built-in Zigbee hub. Check here to see many supported devices. Also look for devices with the Zigbee logo to know they'll work with eero.
How many Zigbee devices can eero support?
eero 6 gateway and eero Pro 6 can support up to 50 Zigbee connected devices per eero.
What happens if I turn off or remove an eero from my network?
If you turn off or remove an eero, the Zigbee devices connected to that eero will no longer be reachable. You will need to reconnect your Zigbee devices with Alexa using the Alexa app.
Should I migrate existing Zigbee products from other hubs to eero?
If you already have an existing hub, we recommend keeping it in place. Compatible smart home devices can still be connected to Alexa using your current hub. You can learn more about connecting a smart home device in the Alexa app here.