What is eero PoE 6 and eero PoE Gateway?
At eero, we want to deliver a wifi solution for everyone, which is why we're excited to offer an entirely new class of eero products that support Power-over-Ethernet (PoE) and wired network installations: eero PoE6 and eero PoE Gateway. The new line, which will be primarily available through professional installers, homebuilders, and ISPs, harnesses power-over-ethernet capabilities to cover your home or business in fast, reliable wifi. You can learn more about PoE here. You can learn more about eero PoE 6 set up with the eero PoE 6 installation guide. Click here for the eero PoE Gateway setup article.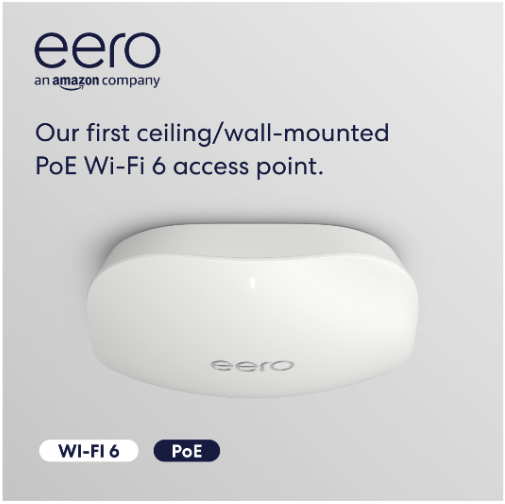 eero PoE 6
eero PoE 6 is eero's first ceiling/wall-mountable Wi-Fi 6 access point. eero PoE 6 is a Wi-Fi 6 PoE access point that can provide up to 2,000 square feet of coverage. It can support 100+ devices. It supports 160 MHz channels and wireless speeds up to 1.5 Gbps, and can go almost anywhere ethernet cable can be pulled—making it easy to flush-mount to ceilings and walls giving you optimal wifi coverage.
Because it utilizes Power over Ethernet cables, eero PoE 6 doesn't need a separate power supply. It can be easily attached to a ceiling or wall to maximize wifi coverage throughout your home
The eero PoE 6 is now available through amazon.com here and the 15w power adapter may be purchased separately if needed. Please visit here to purchase the correct adapter for your eero
eero PoE 6 Technical Specifications
Price

From: $299.99

Wifi coverage

Covers up to 2,000 sq. ft.

Type

Wireless access point

Wireless network speed

Best for gigabit+ internet speeds

Wifi standard

Wi-Fi 6 (802.11ax), supporting 160 MHz channels and compatible with older wifi standards

Number of wifi radios

2; dual-band

Ethernet ports

1 auto-sensing 2.5 Gigabit PoE port, RJ-45

1 auto-sensing Gigabit port, RJ-45

Placement

Ceiling / wall mount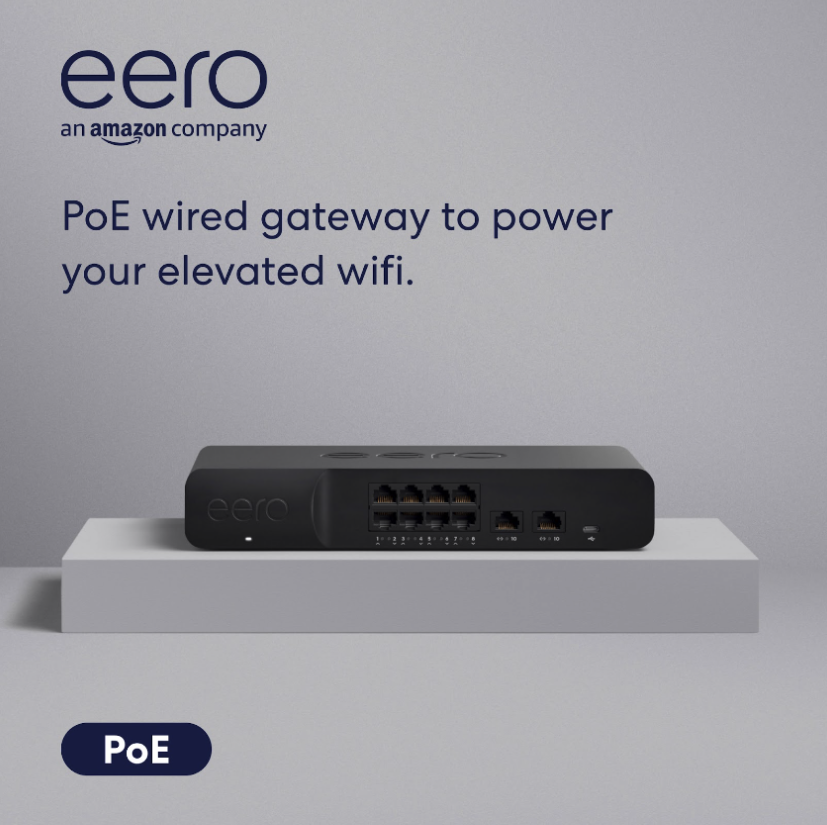 eero PoE Gateway
eero PoE Gateway is a multi-gigabit wired gateway capable of powering multiple eero PoE 6 access points to provide wifi coverage throughout your home or business. eero PoE Gateway also powers other PoE devices, features two 10 GbE ports and eight PoE-capable 2.5 GbE ports.
With the included 140W power supply, eero PoE Gateway is a wired gateway that supplies 100W of pooled power for PoE /PoE-enabled devices up to 802.3bt class 5, including multiple eero PoE 6 access points. eero PoE Gateway will be available in early 2023.
eero PoE Gateway Technical Specifications
Price

From: $699.99

Wifi coverage

N/A

Type

Wired Gateway

Wired network speed

Up to 9.4 Gbps

Wifi standard

N/A

Number of wifi radios

N/A

Ethernet ports

2x auto-sensing 10 GbE port, RJ45

8x auto-sensing 2.5 GbE PoE-PSE port, RJ-45

Placement

Shelf / tabletop